From The Principal's Desk
"Education is the kindling of a flame, not the filling of a vessel." —Socrates
The aim of education at the Himalayan Public School is to nurture responsible, aware and physically agile children who are at home in the globalized world of today and the future, yet have imbibed our grand old Indian culture and traditions.
Education is the magic that has the potential to transform ordinary into extraordinary and we at The Himalayan Public School believe in imparting education that is comprehensive, value based and prepares the youth to take up the challenges of life boldly.
Children are encouraged to think and question and thus gain knowledge through experience. We believe that every moment spent in school is a learning experience for students.
It is our duty to provide to them a variety of enriching and enjoyable learning opportunities throughout the day. Co-operation takes priority over competition. As Educators let us help children build up a global character of open mindedness, cross cultural tolerance, resilience, multiliteracy and communication technology besides the core universal values which we all cherish.
'Teachers, who love teaching, teach children to love learning.'
The school keeps us going all the time and we never stop because The Himalayan Public School believes in innovation and passion at every step of life we together as a family try to cater to the changing dynamics of a classroom and build a community that drives and experience yet working with a single motif. That is to deliver the best with heart. As the Principal of The Himalayan Public School it becomes the prime objective to constantly collaborate the students and parent community to make this institution a sacred intimate and warm place of learning.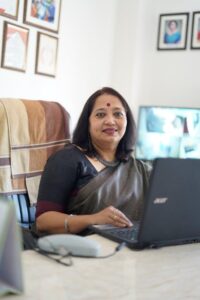 About—-
Dr. Mrs Ena Banerjee
Principal, The Himalayan Public School
M.SC (Botany), PHD, B.Ed
With a total experience of 27 years in the education sector Dr. Ena Banerjee is heading the school. Ma'am has worked with various schools and holds outstanding leadership ability. Is a disciplinarian by nature and makes herself approachable to all.
Dr. Mrs. Ena Banerjee , as the Principal has been associated with the school since 2019. Through a collaborative and participatory approach, a highly capable team has been led by ma'am to create what is today regarded as a reputed centre of educational excellence